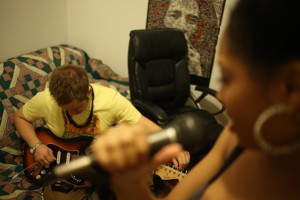 Diversion formed in Chicago in the spring of 2012.
Initially brought together by their shared love of acoustic music, multi-instrumentalist Nathan Greenhalgh and singer Taylor Noelle soon began exploring electronic sounds.
The duo released their debut EP "Highlife" in 2013 and their self-titled full-length "Diversion" was released in July 2016.
Diversion is unsigned and independently managed.
Noelle was raised as what she calls an "industry brat", with parents who worked for artists and major record labels. She began writing her own music at the age of 9 and studying classical music. She went on to tour Europe with choirs and helped formed the R&B girl group, Chase, as a teenager. She began working for Sony Music Entertainment at the age of 20.
Greenhalgh has been performing in rock and electronic groups since the early 2000s. In addition to Diversion, he produces electronic music and performs under the moniker Nonsense.